Compost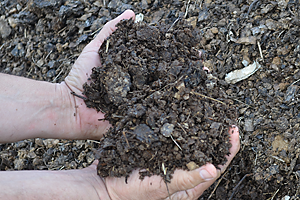 While composting Airlite Bedding using "Best Practices", you can expect the following:
NO Manure Removal Fees
Compost consisting of Black Dirt in 8-12 weeks
Ph neutral Dirt
When you spread on your pastures it will not turn your grass yellow.
Composting doesn't just help your garden, but also the environment. Without compost, soil is dead, inert mineral dust. Composting is not only essential for healthy plants and soil, but it can also remove 20-50% from your household waste stream, reducing the burden on landfills while replenishing your lawn, trees, houseplants, or garden. Cardboard "bedding" is essentially the main component of the "habitat" in a worm or compost bin. Cardboard bedding materials tend to be carbon rich and absorbent, so they are important for helping to maintain balance in the bin. Airlite corrugated cardboard pieces holds moisture better than any other material. The addition of chopped cardboard helps to encourage airflow in the bin and worms need oxygen to live. The distinction between bedding and worm 'food' is that bedding is simply a longer term food source, so the combination of Airlite cardboard dust and Airlite chopped cardboard is ideal.

For questions, more information or to place an order, email or call us at 855-884-9420.


Why Compost?
Compost improves the structure of any soil, be it sand, loam or clay. Soils amended with compost will retain more water and drain better.
Compost containing macronutrients as well as trace nutrients in a slow-release form.
Compost helps balance soil pH, fosters good soil structure, and improves tilth and fertility.
Compost loosens clay soils and prevents nutrient leaching by loosely binding nutrients into the soil.
Compost supports and promotes a diversity of soil life, be it bacteria, fungi, worms or beetles. These soil crawlers help process nutrients and create healthier, more disease- and pest-resistant crops.
Compost ingredients are easy to come by. What goes into the creation of compost is often the result of your home's production—be it garden or kitchen scraps.
Composting is economical. Repurposing waste instead of sending it to a landfill and reducing the need for other fertilizers and chemicals. The nutrients present in your soil, stay in your soil, and continue to nourish and benefit the future.
Urban farming
Resources: www.o2compost.com